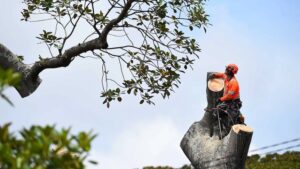 Our team of experts is the one you can turn to when you need fast and affordable tree-lopping services in Logan. Offering a wide selection of pruning and felling options, we are the company of choice for Logan's home and commercial customers. Plus, our quick 24/7 emergency response ensures your storm damage is repaired quickly. Nothing beats our team of experts when it comes to reliable, affordable, and convenient solutions.
We fully adhere to all removal guidelines set out in the Work Cover Amenity Tree 1998 code of practice. This means that when you trust our team, we have the skills, knowledge, and expertise, required to manage end-to-end safety.
Affordable Tree Lopping Services in Logan
These are great plants to have in the yard; they are very pleasing to the eye and act as shade and a natural habitat for birds. They are also likely to outlast you for a long time with minimal maintenance. Unfortunately, often due to natural causes, trees can become damaged or diseased beyond repair. It is very dangerous to leave a tree like this because it can fall without warning, causing damage or blocking the road. The smartest thing to do in this situation is to use tree lopping services in Logan provided by our experts with the right technique and the right tools.
Why Are Tree Lopping Services Required in Logan?
Another reason to prune a tree is that it endangers the things around it. Obstacles such as power lines, buildings, and other trees sometimes get in the way. Trees can be pruned in such a way that complete feelings are avoided, but this is not always possible.
To avoid this problem in the first place, plant tall trees at least 20 feet away from a structure, and if the potency is nearing, the plant will mature at a height lower than the row.
Cheaper than all the rest tree lopping is the tree lopping service you should call. We offer a full range of tree-lopping services in Logan, so you don't have to end up with a pile of wood in your yard. We will also remove damaged or dangerous branches. Smaller plants and trees can be handled with common household hand tools, but anything taller than your shoulder can be difficult to manage.
We are the number one choice when you need professional tree-lopping services in Logan. We are fully capable of performing maintenance to improve the overall health and appearance of trees and foliage. If not, we may remove them to create more space or protect nearby people, property, and infrastructure.
Our growers are fully qualified and insured, backed by years of experience, and equipped with the latest tools to get the job done right. For a free quote, please contact us at 0406882192.